New Models and Income Streams for Artists
Since 2006, SCAN has been researching different models of working that may introduce other funding streams both for SCAN artists and also for the organisation. This work has been undertaken with Sarah Thelwall and during 2009 SCAN will begin to implement some of its ideas through work with artists and organisations. Some of this work, it is expected, will produce immediate earned income while other projects may take more time. At the heart of all SCAN's practice, the aim is to produce high quality and concept art which seeks to challenge and develop existing models of practice. It is not SCAN's intention to compromise art work by foregrounding income strands – the work that the organisation is undertaking sees alternative income strands as a secondary product after the art work has been undertaken. A number of the ideas we are developing are not new but SCAN is trying to build these into a general model of practice for artists rather than presenting them as 'one-offs' or alternative models of working.
Some examples of the ways in which SCAN proposes to work:
Mentoring
SCAN offers a mentoring service to artists for development of their work both artistically and in a business context. These are up to three year packages offering advice, commissions and residencies in some cases, and professional development.
Proof of Concept/Research
The artists we work with are inventive and sometimes work outside of the mainstream art market. Much of their work creates new practices and tools that are transferrable to contexts beyond their own art work. We are working through research to establish a number of proofs of concept so that artists can present an aspect of their work in a more commercial context. This is done only if the artist feels that this is a positive way forward that may finance the next phase of their work or develop their work in a way that is helpful to them as well as the open market.
Case Studies


Aura for artists – Aura is a sonic augmented reality system that Steve Symons built as an artwork in its own right. He has shown the work extensively both nationally and internationally. The code for the system is available online and Steve is now working with SCAN to make the Aura system available to other artists to use. Through a support and workshop programme, Steve will mentor artists who wish to work with sound and interaction. Currently, the idea is to fund this through grant means but Steve's support work may also provide an income strand.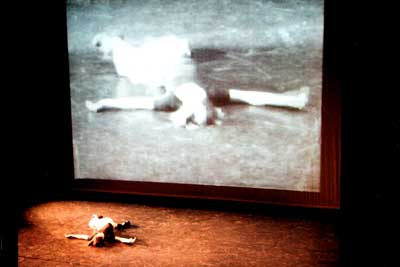 Data Golem – this is an interactive and adaptive system developed by artists Tessa Elliott and Jonathan Jones Morris (The Surgery) that will be available online. It is a system that changes and adapts according to the gesture of the interactor (dancer or performer). Each system, while emerging from the same code will change its emphasis dependent on the person it is interacting or working with. This piece is intended to be a collectively authored work for the sector – it questions ideas around authorship and remuneration of work.
A decision will be made whether to make this work open source or a direct income generator
CAPTIVE – Motion Capture plug in for operating systems – a package allowing people without access to motion capture suites to use a library of movements for development of their own games, animations and presence in Web 3.0 environments such as Second Life. This is being developed by programmers at Bournemouth University and will be tested by a range of artists and special interest groups.
Bandwidth – part of a moving image billboard art project by John Bell. Gestural and facial recognition software that analyses audience responses. This is being developed as software for wider distribution.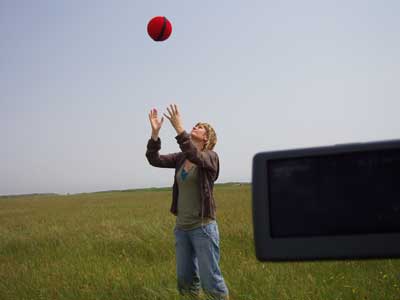 Ballcam – a camera embedded in a foam ball developed by Lizzie Sykes in relation to her film work with performers and dancers. This has been built as a prototype and SCAN is developing a range of contexts in which it can be used commercially (sport documentation, film with people with disabilities).
Policy Contribution
We are now beginning to publish some of the work that we have done and discussions with various funding bodies are underway about approaches to these new models of working. It is early days but SCAN is introducing its ideas to Higher Education, funders and artists.
Placements
SCAN is working with a number of artists who have placements in industry and is looking at the potential for artists to act as consultants in a commercial environment while contributing to their own practice.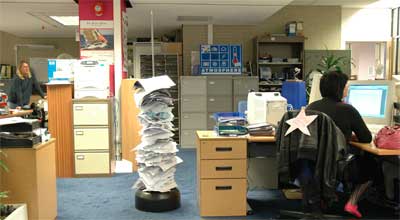 Case Study
Office Investigations, Jeannie Driver – A series of works to monitor and evaluate behaviour in the workplace. Atmosphere is a weather board that workers can record their impressions of the mood in the office at a given time; Spikeit is a video-documented 6 foot high spike that workers are encouraged to recycle paper on and step data is an analysis of how much officer workers walk in their workplace. All these have been exhibited as artworks but are now being used in a behaviour in the workplace consultancy context additionally.
Arts Professional Article, 12th January 2009. Download Pdf