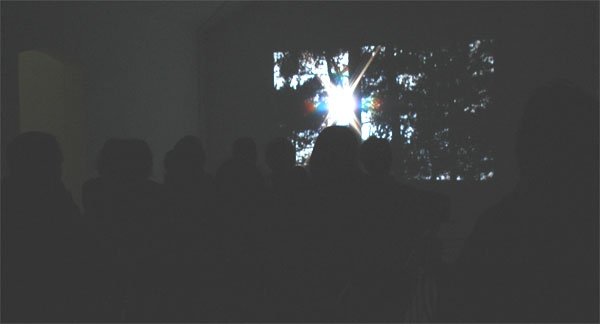 Gallery 2 – Sound, Abstraction, Animation and Artists Use of Single Screen Video
Lizzie Sykes, Sequences from Unfairground Ride (2005/6), 4mins
Working with dancers Maggi Swallow and Tiago Gambogi, Lizzie Sykes used a uniquely designed camera embedded in a foam ball (the ballcam) to produce these works. The ballcam enabled the dancers to become filmmaker and choreographer as they held the camera while they performed. These two sequences Angry Rambler and Unfair come from 11 short clips that have been shown as single screen pieces and as installation. The ballcam pieces present a quality of disorientation together with humour through the dancers' manipulation of the camera.
Lizzie Sykes is Senior Lecturer in Television Production at Bournemouth University and until 2005 was Director of Vivid Animations, Community Film Production Company. She has worked as an artist for the last ten years and has exhibited widely at both galleries and film festivals nationally and internationally. Her touring exhibition Unfairground Ride premiered at Salisbury Arts Centre, 2007.
Jon Adams, 43 Seconds (2007), 59secs
43 Seconds is the time it took for the nuclear warhead to fall from Enola Gay (the aeroplane that dropped the bomb) on to Hiroshima in 1945. This animation takes a wry look at what that length of time signified for post WWII history and today. Sound is important in Jon's work and much of his practice involves sound installation – it is an integral part of this single screen video providing a combination of found and uniquely generated sounds.
Jon Adams is a researcher at Portsmouth University and active within Disability Arts. He has exhibited widely all over the UK and is currently artist in residence with Southern Trains.
Adam Vanner, Beijing Opera (2006/7), 3mins 40secs
In 2006, Adam Vanner visited Beijing with a view to recording and animating, using motion capture and high quality sound, the work of the members of the Beijing Opera. He set out to record them playing as many characters as possible for repository in their archive, the idea being that when the players retired there would be a very accurate recording of each player through analysis of gesture and style demonstrated by motion capture rather than the more conventional recording provided by film. The animated characters in this screening demonstrate the particular signature and style of the individual players in the performances that have been recorded with a view to introducing the players virtually in subsequent productions.
Adam Vanner is researcher at Centre for Computer Animation, Bournemouth University and has collaborated on a number of high profile performance projects and animated films with particular emphasis on motion capture.
Julie Marsh, Livin' Thing (2006) 3mins 16secs
Julie Marsh is an effective observer of ordinary people engaging in their hobbies and favoured pursuits. Her camera is never critical or judgementary; the artist does not offer a documentary view, but rather a candid representation of lives simply being led. In Livin' Thing Marsh installed her revolving camera in the middle of a dance floor during Thursday night modern jive class at Bournemouth Pavilion. As the camera slowly revolves, male and female partners flit in and out of view; smiling faces are everywhere. The viewer is never simply a voyeur, but is left in doubt to the sense of innocence and unadulterated pleasure evident in the relaxed body language of each participant.
Recent projects and exhibitions by Julie Marsh during 2006 and 2007 include: research and scholarship support funding for the development of a solo exhibition full-circle in the main gallery, Phoenix Gallery, Brighton. Re-view film based group exhibition exploring the term 'landscape' at the Study Gallery, Poole. Re-view 2, select group exhibition then travelled to The Lighthouse, Poole. Future Exhibitions include: Meeting Place at the Russell-Cotes Museum; Into the light: text+work in collaboration with Peter Bonnell at the Arts Institute at Bournemouth. Julie Marsh is a Senior Lecturer in Lens Based Media at the Arts Institute at Bournemouth. For more information please visit: www.julie_marsh.com
Michael Gale: 25th October Street (2007) 5mins
Michael Gale's work deals with research into and subsequent classification of identity in post Soviet countries. The static camera of 25th October Street frames an elderly couple as they perform a traditional folk song for an unseen crowd. Although uncomfortable, the dedication of the two musicians is both affirming, and indicative of the struggle that people living in a post Communist era endure.
Michael Gale graduated from the Arts Institute at Bournemouth with an MA (Photography) in 2007, and is currently developing a project entitled Transnistria's Frozen Conflict. For more information, please go to: www.mikegale.co.uk
Charlie Tweed, All About the Power (2006) 5mins 9secs
Charlie Tweed often adopts a variety of alter egos, starring in his video works as disguised, slightly absurd characters. His film All About the Power explores the mechanisms of power and control and the potential of the irrational.
Charlie Tweed will graduate from the MA Fine Art, Goldsmiths College, University of London in 2008. He gained a BA (Hons) in Fine Art, Oxford Brookes University in 1997. Recent Exhibitions include: We Like it Alot, Nettie Horn Gallery, London (performance); New Contemporaries 2007 – Touring to Walsall, Manchester and London and Indie Memphis Festival, Memphis, USA (all 2007). For more information on Charlie Tweed please visit: www.newcontemporaries.org.uk/artist_single.php?aid=1554
Dan Geesin, Show Me the Way to Your Most Beautiful Place (2004) 8mins
Show Me the Way to Your Most Beautiful Place displays a typically linear piece of storytelling by Dan Geesin. However, as the film progresses, tension and atmosphere are ratcheted to an uncomfortable degree as a group of men inexplicably attack, hood and tie up and innocent young man. The shock of being jerked from our reverie makes for an uncomfortable ending, leaving the viewer to question the nature of random acts.
Dan Geesin 1970, makes films, music, and drawings. www.geesin.nl or google for geesin. He lives and works in Amsterdam.
Laura Joy, Sun and Dark, 2006, 3mins 26secs
During the making of Sun and Dark, Laura Joy and Mu Mixer worked collaboratively and the film and soundtrack evolved alongside one another. Super8 film was used to capture fleeting moments of light and shadow, which were hand-edited into a journey from light to dark and back again. The soundtrack 'When the lights go out', uses sampled sun sounds, which resonate and pulsate with an electronic drone that echoes the same energy cycles.
Sun and Dark featured in the Prophecy exhibition at the Bargate Monument Gallery, Southampton 2006 (organised by a space contemporary arts organisation), and was also screened at the Electrical Activity Film Festival, Star and Shadow Cinema, Newcastle 2006.
Eamon O'Kane, Overlook (2004), 3mins
Overlook, by Eamon O'Kane is a disconcerting journey through an anonymous building. The building in question could well be a facsimile of the hotel that featured – and starred in – Stanley Kubrick's The Shining, from the original novel by Stephen King. The mirror imaging, backwards sound and constant movement of the camera makes for an eerie and faintly sinister journey.
Eamon O'Kane is a practicing artist based in Bristol, where he is Senior lecturer in Fine Art at UWE. He studied in Dublin, Belfast and New York and has exhibited widely and is the recipient of many awards and scholarships including the Taylor Art Award, The Tony O'Malley Award and a Fulbright Award. In 2005 he received an EV+A open award from Dan Cameron (Senior Curator at the New Museum of Contemporary Art in New York) and in 2006 he was shortlisted for the AIB Prize and received a Pollock Krasner foundation grant.
Susan Sloan, Me and Mrs Sloan (2007), 2mins
Me and Mrs Sloan is an animated self-portrait, with the artist's mother Mary Sloan. The work is part of an ongoing study into portraiture that utilises 3D animation software and motion capture technologies looking at identity through motion and action. In this work, a 3D computer generated representation of the artist's mother has been combined with motion captured every day actions and movements from Susan herself to create an amalgam of both of them.
Susan Sloan is a Lecturer/ Research Fellow at the National Centre for Computer Animation, Bournemouth University. She works both collaboratively and on a solo basis using animation to create artworks and public projects. Her work has been shown nationally and internationally at exhibitions including the SIGGRAPH Gallery, San Diego; 404 Festival, Argentina; IVO3 London; IVO6, London, Sydney; Kunstihoone Gallery, Tallinn, Estonia; Yokohama Art Museum, Japan; An Tuireann, Isle of Skye; Glasgow International Festival; NPAR, Annecy Animation Festival, France. I have undertaken a number of residencies including District of Columbia Schools, Washington DC; Royal Scottish Academy, Florence and The National Centre for Computer Animation, Bournemouth University.
Mel Harding, Son and Her (2007), 5mins
Son and Her is an investigation into the subverting of the traditional roles between parents and children. Harding's film deals with repetitive acts that seem innocuous, playful even – before the realisation that the young child is performing a necessary task critical to the health of his mother, neatly reversing the traditional roles of parent and child.
Mel Harding is a Photographer/ Video artist originally from Somerset. She gained a BA (Hons) in Photography at Salisbury College, and an MA (Photography) at the Arts Institute at Bournemouth in 2007.
Julian Konczak, J9 (2006), 9mins
J9 explores the relationship between journey and narrative – using sound and image to draw an audience into the rhythmic cycles of travel. The 9 minute sequence using computational video techniques to incorporate video in a diverse range of locations uses stunning visual imagery filmed on location in North America, Asia, Europe, USA and Mexico. The three-screen video evokes the way in which we map our own internal experience on to diverse locations and cultures as we travel. The soundtrack by Jeremy Avis is composed from location recording and music, allowing the audiovisual rhythm to evoke and emotional sense of moving though different physical environments.
Julian Konczak has been involved in creative media production for the past 15 years, producing work in photography, video and, more recently, digital arts. Embracing digital technologies in video post-production, he has worked for a number of years as a freelance motion graphics and video editor, working on broadcast and corporate communication projects for blue chip clients, satellite television and interactive media. Julian Konczak is Senior Lecturer in Interactive Media at Solent University and has exhibited his work widely including at SIGGRAPH and the Two Not Ten Festival, A-Space Southampton. He is editor of Hidrazone online journal.
Ruth Todhunter, Water Butt (2006) 5mins
Water Butt is a short film that focuses on the abstract in our local environment. The artist utilises the lens of her camera as if it is a square of canvas. Her choice of imagery does not allude to a linear narrative, but instead lingers on form, shape, texture and colour. Sound also plays an important role, a role that adds texture rather than overt exposition.
Ruth Todhunter graduated from the Royal Academy schools in 2005, and Glasgow School of Art in 2001. Recent exhibitions have been for Platform for Art, Piccadilly Tube station in 2005 and at the Marksman Gallery in 2006. For more information visit: www.marksmangallery.co.uk and also
http://www.northernedgecpe.org.uk/sectors/profiles.php
Kirsten Cook, Danish Lunch (2007) 10mins
Through the medium of time-lapse camera, Kirsten Cook's Danish Lunch records a leisurely meal with friends and colleagues distilled into 10 frenetic minutes. With the camera set high, the viewer feels distanced from events – an outsider at a convivial and warm event. The lunch is also a statement of the artist's heritage, and her desire to share that with those she feels most close to.
Kirsten Cook is a recent graduate of the MA at the Arts Institute at Bournemouth.