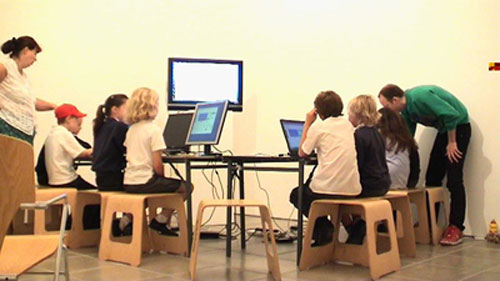 Paul B. Davis Residency
What's inside my computer?
Reconfiguration of data and electronic devices is central to Paul Davis's work (his piece Compression Study 3 was shown as part of the Film/Video and Music programme in Multichannel 2008).
Paul spent one week in residence at ArtSway as part of the Distributed South initiative showing primary school students how to alter computer programs and data contained within games and video files set against a creative and artistic context. The demonstration was designed to demonstrate how it is possible to obtain interesting and beautiful results from simple file and image manipulation. Paul taught the students from a local school how to create basic electronic interventions using new USB circuit boards from Arduino.
The activities during Paul's residency are intended to inform a publication that Paul is working on which will teach basic computer programming and electronics to children.
A short video of the artist talking about his residency can be found here!
This residency is part of Distributed South, an initiative to raise the profile of media arts in South England. It is co-managed by SCAN and Space Media and is funded with the support of Arts Council England.