The Organic Rationalist Project
The Organic Rationalist
This information base was created in 2004, but may be updated in 2008 in collaboration with Solent University Enterprise & Development.
This exhibition of computer-generated images and objects by Kevin Todd questions our involvement with nature and the scientific desire for a predictable and rational environment is challenged. Although the work is aesthetically appealing, it speaks of the limits of rationalism in relation to our involvement in the world and the supposed dichotomy between art and technology, between the technical and organic.
The tension that exists between the rationalism and supposed objectivity of science and the subjective human experience of living in a specific place and culture should be a crucial concern for art and technology and the visceral nature of the forms and their minor imperfections suggest a discomfort with the virtual world of the computer where everything is predicated on number.
The images were created using 3D modelling, printed on film and laminated between glass while the objects were built by CRDM using selective laser sintering; a technology that builds physical objects directly from a computer file (see CNC/RP Guide below).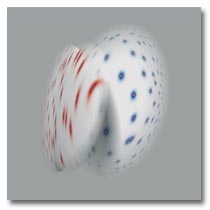 CNC / Rapid Prototyping Guide
CNC (computer numeric control) / Rapid Prototyping (RP) are a range of technologies that cut or build physical objects direct from computer (CAD) files. CNC/RP has been developed in an industry context and over the past few years its use by artists has increased. This guide is designed to act as an introduction for artists interested in the potential of these technologies as a means of developing concept designs, prototypes or finished works.
There are two basic groups each with a range of processes:
1. BUILDING (Rapid Prototyping), which builds there-dimensional objects in a range of materials using a system that converts computer-generated designs into a series of very fine layers or slices.
2. CUTTING AND MILLING, which cuts or shapes existing materials, such as timber, plastic or metal. Cutting is generally applied to materials in sheet form while milling generally involves shaping an object on a lathe.
Go to CNC/RP Technical Guide
Resources Page
Online Design by Jay Dunford
This project is hosted and sponsored by SCAN for Kevin Todd, Artist in Residence at New Greenham Arts, a member of the SCAN network.